Our Mission for Equestrians

​

We want to make your riding surface maintenance easy. The result is a safe and functional riding surface every time.
ArenaMate®

design and manufacture

specific maintenance equipment for equestrian riding surfaces.


We have over 35 years of expertise in engineering, we take pride in providing affordable, high-performance and long-lasting products.


As equestrian enthusiasts ourselves, we understand the importance of this way of life and strive to make our customers feel at home with us. We are always here to answer any questions you may have.
ArenaMate® Riding Surface Maintenance Machinery

​

ArenaMate® Paddock Maintenance Equipment

​

Spring Tine Grass Harrow
For maintenance of grazing land and horse paddocks
Features & benefits of the Grass Harrow:
8mm triple sprung tines open the soil surface and increase root aeration. This encourages strong rooted and healthy grasses with less reliance on fertilisers

Tines spaced at 30mm drag out shallow rooted weeds and moss and level molehills and dung

Adjustable tines offers perfect control over the result required




Designed & manufactured in the UK and "Made In Britain" certified

Engineered to high standards including ISO 9001 quality management

Onsite training available. We're here to help every step of the way!

Fantastic after-sales support for advice, servicing, repairs and upgrades

ArenaMate® is "Made in Britain"
For more than two decades, ArenaMate® is a leading manufacturer of equestrian equipment, specializing in arena levellers and graders.
With our wealth of experience, we have become experts in our field and our products are trusted by equestrian professionals worldwide.
What ArenaMate® Ambassadors Say

"Every time I use the ArenaMate® I'm just as excited and pleased about the finish as the first time I used it.

The ArenaMate® leveller has been a great addition to our yard. It's used on a regular basis giving a very professional finish every time. The side bar has saved us hours of time as it effortlessly pulls back the edges of the arena this is something we used to rake in by hand.

We used to use a tractor and grass harrow but we weren't getting the level surface we needed. Now we have an arena that is so evenly levelled where there are no divots ready for the horses to give their best performance."

"I have the ArenaMate Type 3, 1.8m RFB for my waxed indoor arena. It does a really great job at keeping the surface ready to exercise the horses on and it's really easy for us to use every day.

The service from ArenaMate was excellent from start to finish, helping me to choose the right machine for our yard and surface. Even to the point of the onsite demo, the chaps are really helpful and thorough. Highly recommended."
"We have used the ArenaMate® leveller for our surfaces for many years and find it perfectly set up to do the job in both of our arenas, which are used daily.

It is an excellent piece of engineering, easy to use, it maneuvers really well and it is available in many different sizes, hitch types, paint colours and combinations to suit most types of surface.

Put that with the excellent service from Jelka and you have a winning combination."

"I have been using an ArenaMate leveller for my international arenas at Aston le Walls since 2015, and I can confidently say that the service that ArenaMate provides is second to none. The team at ArenaMate consists of knowledgeable and passionate individuals who are always available to help, even if it's just a quick phone call. They are always willing to go the extra mile to ensure that their customers are satisfied.

One of the things that I appreciate the most about ArenaMate is their onsite demonstration service. When you first purchase a leveller from ArenaMate, they will come to your site and give you an onsite demonstration. This is incredibly helpful, as it allows you to see the leveller in action and get a sense of how it should be set up for your specific surface. This ensures that you get the best possible results from your leveller right from the start.

The leveller makes it easy to maintain a consistently level surface, which is essential for the safety and performance of both horses and riders. I wouldn't hesitate to recommend an ArenaMate leveller to anyone who is serious about maintaining their arena."

The extras... training and servicing

To help you reap the benefits of our machinery we are able to provide on site training on the use of our riding surface maintenance equipment. This means we can show you how to operate the machinery for ultimate peace of mind. If you'd like a refresher for you or your staff, just ask.
We can service your machinery on site or in our workshops and as the manufacturer, we stock all spare parts.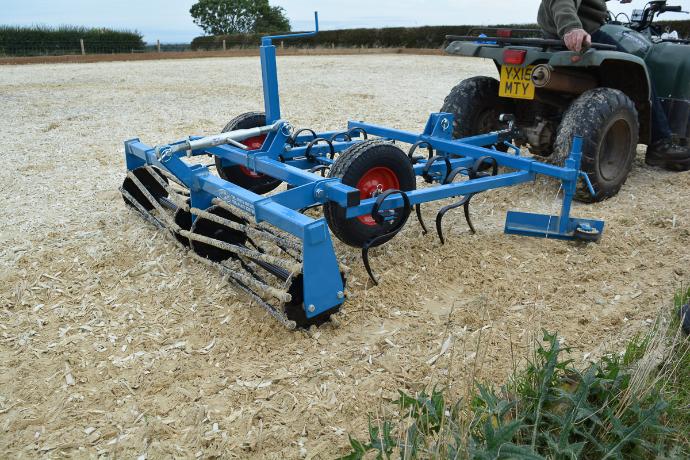 Got a Question? Just ask...
Your Dynamic Snippet will be displayed here... This message is displayed because you did not provided both a filter and a template to use.